O que é a deliberação cívica?
A deliberação cívica é uma forma de consulta pública que nos permite descobrir que escolhas fariam os portugueses se tivessem o tempo, a informação e as condições ideais para reflectir sobre o tema em discussão.
Trata-se de um processo cuidadosamente estruturado e já em utilização em vários países, como é o caso da Irlanda, do Canadá, dos Estados Unidos e da Bélgica. Um painel de cidadãos, escolhido através de modernas técnicas de amostragem de forma a espelhar a diversidade da sociedade portuguesa e contando com o apoio de facilitadores, passa vários dias a escutar e questionar especialistas, a analisar informação e a deliberar sobre um tema. No final, as suas recomendações são difundidas pelo Fórum através de múltiplos canais (on- e offline) bem como através da organização de sessões públicas que alargam a discussão ao resto da sociedade portuguesa e, assim, asseguram o seu máximo impacto.
What is citizen deliberation?
Citizen deliberation is a form of public consultation that allows us to discover which choices citizens would make if they had the time, the information and the ideal conditions to reflect on a given political issue.
Citizen deliberation is a carefully structured deliberative process inspired by experiences in countries such as Ireland, Canada, the US and Belgium. A panel of citizens, chosen through modern sampling techniques so that it mirrors the diversity of Portuguese society and supported by skilled facilitators, spends several days discussing and questioning specialists, analyzing information and deliberating on a topic. At the end, their recommendations are disseminated by the Fórum through on- and offline channels as well as through the organization of public meetings so as to bring the rest of Portuguese society into the conversation—and, thus, maximize the impact of the process.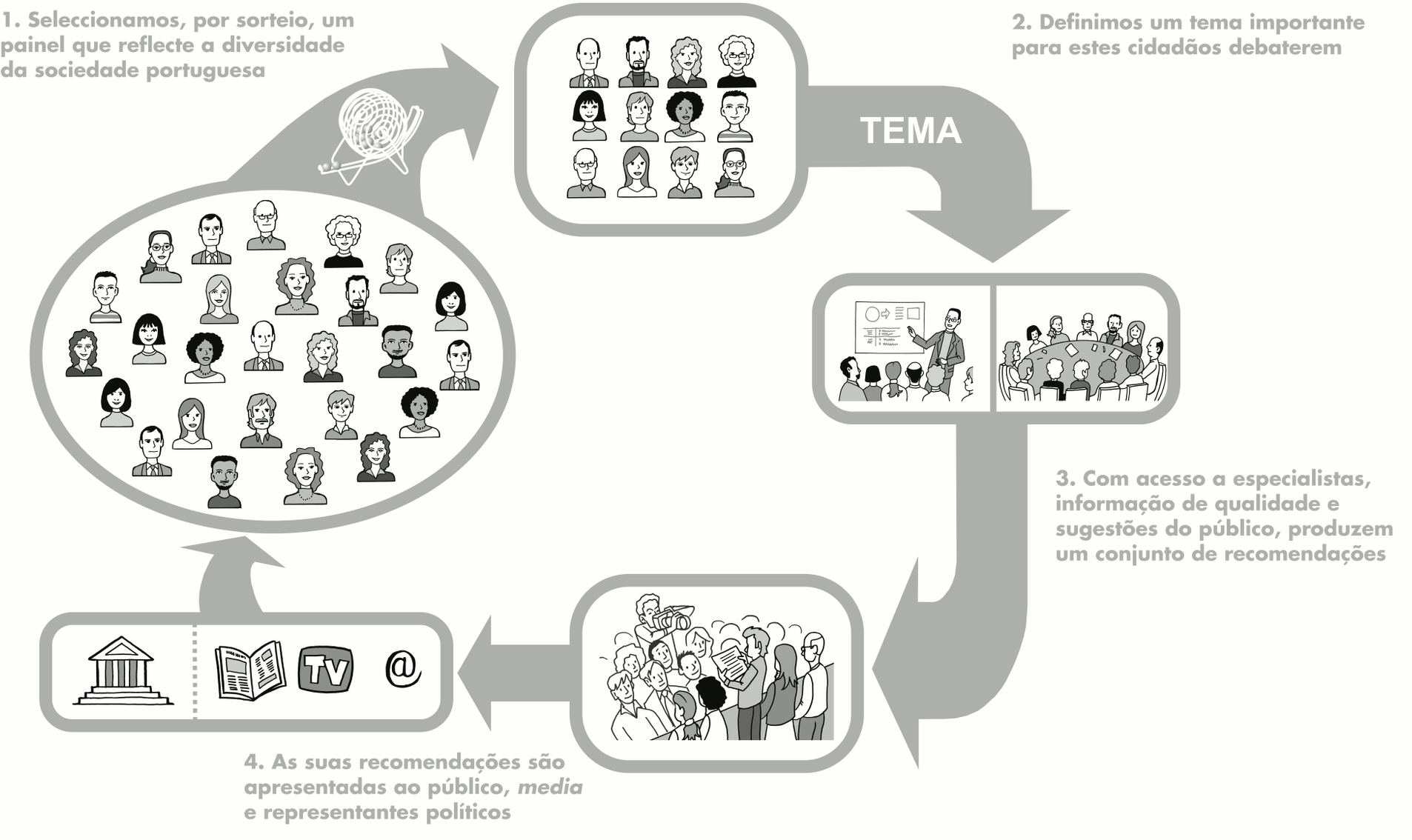 Já é usado em Portugal?
Sim, até à data já organizámos dois fóruns deliberativos usando este método. Estamos a discutir com várias instituições e outros potenciais parceiros a organização de mais fóruns deliberativos. Através do Faz o Fórum, queremos também disseminá-lo um pouco por todo o país para ajudar as populações a discutir temáticas locais. Contacte-nos com sugestões ou ideias.
Is it already being used in Portugal?
Yes, so far we have already organized two deliberative forums using this method. We are discusssing with several institutions and other potential partners the organization of additional forums. Through our initiative Faz o Fórum, we also want to spread this practice to different parts of Portugal and help local populations discuss the issues affecting them. Contact us with any ideas or suggestions.
<! -- 1st row -->