Ciência Cidadã em Oeiras
Citizen Science in Oeiras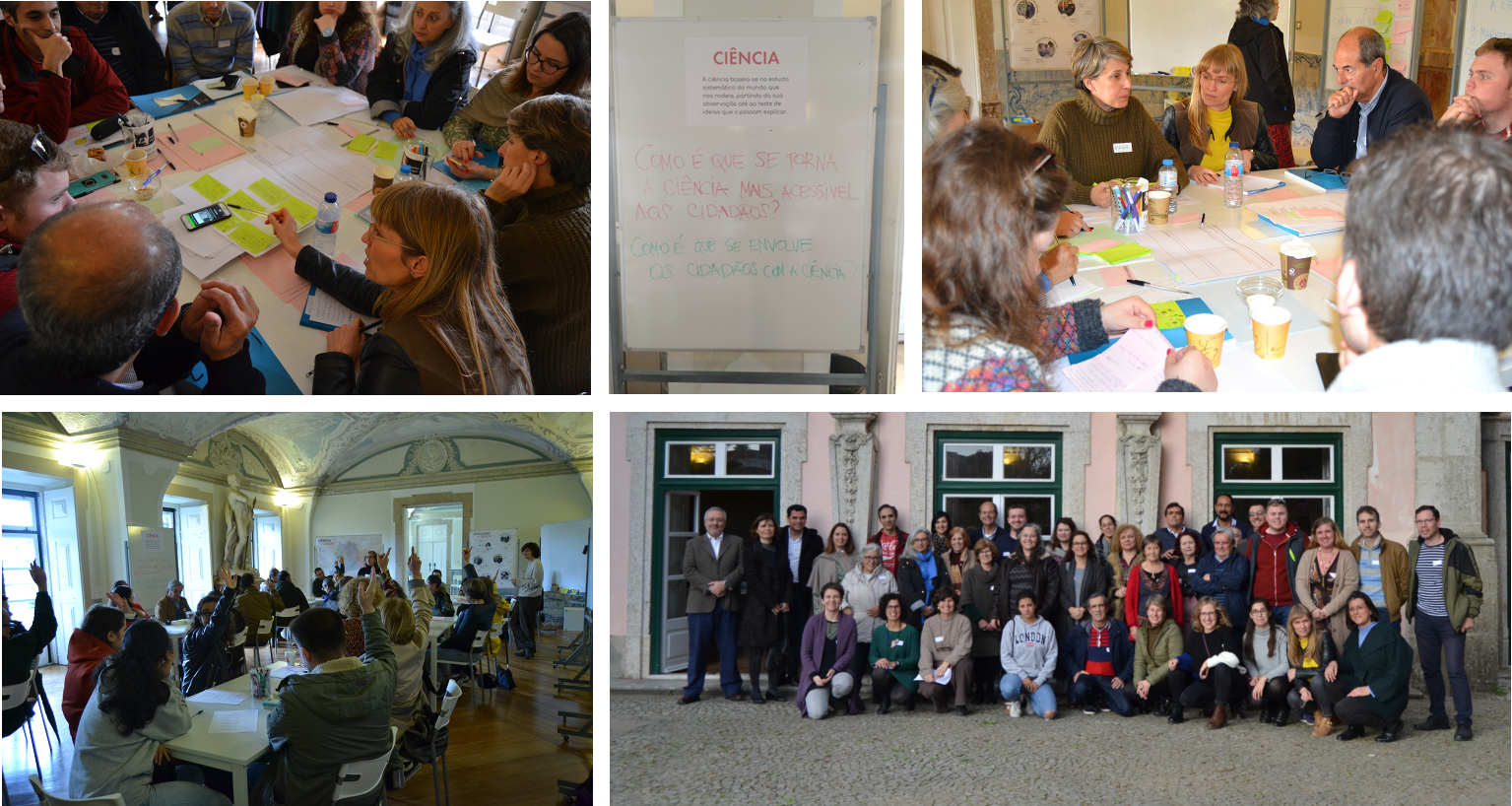 Ciência Cidadã em Oeiras
Em Fevereiro de 2020, o Fórum dos Cidadãos organizou, em parceria com a Câmara Municipal de Oeiras (CMO) e dois centros de investigação do município, o Instituto Gulbenkian de Ciência (IGC) e o Instituto de Tecnologia Química e Biológica António Xavier (ITQB), o primeiro fórum deliberativo neste município. O seu tema foi "Como podemos melhorar Oeiras através da ciência?" e integrou-se numa iniciativa mais ampla entitulada "Ciência Aberta a Oeiras".
Ao longo de um fim-de-semana, 30 residentes no município exploraram em conjunto como aprofundar a relação entre a ciência e os munícipes. A discussão dedicou-se a gerar propostas que respondessem a duas questões concretas:
Como tornar a ciência mais acessível aos cidadãos?
Como envolver os cidadãos na prática da ciência?
Anteriormente, todo o município foi convidado a apresentar sugestões através de um "concurso de ideias" aberto ao público. Foram recebidas 30 sugestões, as quais serviram de base para o trabalho dos participantes.
No final do processo, as recomendações deste fórum foram apresentadas aos responsáveis das três organizações parceiras (CMO, IGC e ITQB) que coordenam o projecto "Ciência Aberta a Oeiras".
Um segundo fórum deliberativo, também enquadrado na iniciativa "Ciência Aberta a Oeiras", ocorrerá em Setembro de 2020.
Citizen Science in Oeiras
In February 2020, Fórum dos Cidadãos organized, in partnership with the City of Oeiras (CMO) and two local research centers, Instituto Gulbenkian de Ciência (IGC) and Instituto de Tecnologia Química e Biológica António Xavier (ITQB), the first deliberative forum in Oeiras. The topic was "How can science contribute to improving Oeiras?" and it was part of a broader initiative entitled "Ciência Aberta a Oeiras".
During a weekend, 30 city residents explored together how the relationship between science and city residents can be deepened. The discussion focused on generating proposals that would answer two specific questions:
How can we make science more accessible to citizens?
How can we involve citizens in the actual practice of science?
Previously, all city residents had beeen invited to submit suggestions through an "idea contest" open to the general public. We received a total of 30 suggestions, which served as a basis for the work of the participants in the deliberative forum.
At the end of the process, the recommendations of this forum were presented to the leaders of the three partner organizations (CMO, IGC and ITQB) responsible for the broader "Ciência Aberta a Oeiras" initiative.
A second deliberative forum, also part of "Ciência Aberta a Oeiras", is scheduled for September 2020.
---
Para informação adicional, não hesite em contactar-nos.
For additional information, don't hesitate to reach out to us.